Certified Chevy Service in Chickasha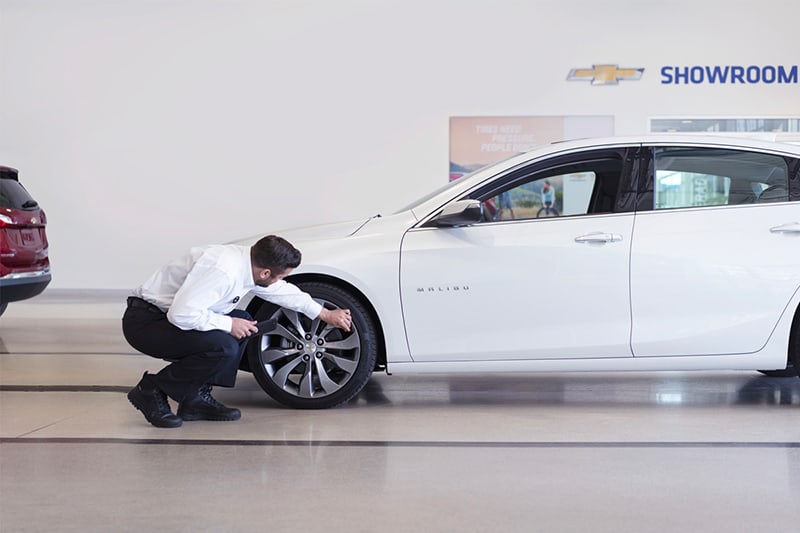 Visit the John Holt Auto Group, Inc. Service Center
Imagine a service center that combines premier expertise, comprehensive services, and unrivaled customer satisfaction. That's precisely what you'll find at John Holt Auto Group, Inc. Service Center, a beacon of automotive excellence situated in Chickasha, near Amber. Whether you're a local driver or hail from Tabler, you're invited to discover the superior vehicle care that makes John Holt Auto Group, Inc. stand out in the automotive industry. Buckle up as we take you on a tour of our offerings driving the future of automotive service.
Why Choose the John Holt Auto Group, Inc. Service Center?
When you need auto repairs or routine maintenance in the Chickasha area, you can rely on our dependable Chevy service technicians at our John Holt service center. We are adept at performing various auto services, from major collision repairs to routine maintenance, such as oil changes, tire replacements, and fluid replacements. Our service center is a certified repair location, ensuring your vehicle receives top-notch care.
John Holt Auto Group, Inc.'s Comprehensive Car Services
At John Holt Auto Group, Inc., we offer a broad spectrum of car maintenance and auto services designed to keep your vehicle running smoothly. Our services include, but are not limited to:
Oil Change
Battery Check and Replacement
Filter Change
Windshield Wiper Replacement
Fluid Replacement
Transmission Flush
Brake Pad Replacements and Inspection
Tire Rotation and Balance
Tire Alignment
Full Vehicle Diagnostic
Emission Services
Headlight Replacements
Our Chevy service is equipped to handle all these and more, ensuring your vehicle remains in peak condition.
Meet the Top Professionals at John Holt Auto Group, Inc.
When searching for a reliable Chevy service center, trust the experts at John Holt Auto Group, Inc.! Our highly skilled technicians are committed to providing outstanding service on time for drivers from Tabler and beyond. Whether you need a simple oil change or a complex transmission replacement, we are dedicated to offering superior customer service for both new and pre-owned car owners.
Experience Top Car Service at John Holt Auto Group, Inc.
Ready to experience our top-notch services at John Holt Auto Group, Inc.? Schedule your car service online and visit our skilled technicians at our John Holt service center. Whether you have questions about our service or need helpful tips to keep your vehicle running smoothly, we're here to assist. Make John Holt Auto Group, Inc. in Chickasha your first choice for all your Chevy service needs.
Maintenance
Need New Tires?
Your vehicle's tires are the first and only contact with the road, so it is important to choose the right set when replacing them. John Holt Auto Group, Inc. has Certified Service experts that will handle all of your tire needs. From checking tire wear to tire pressure our team can help you find new tires for your vehicle when you come in for Chevy service in Chickasha.
Find Tires
Need An Oil Change Near Chickasha?
Your vehicle may be trying to tell you something – Oil Life Monitoring Systems let you know when it's time for an oil change. And our Certified Service experts can recommend what's best for your vehicle. Schedule an appointment today at the John Holt service department.
Learn More
Multi-Point Vehicle Inspection
With your Multi-Point Vehicle Inspection, you get a thorough assessment of your vehicle by the Certified Service experts when you need Chevrolet service in OKC. So protect yourself and your automotive investment with a comprehensive vehicle inspection at your John Holt Auto Group, Inc. Dealer today.
The Multi-Point Vehicle Inspection form uses a simple color-coded key to assess maintenance terms:
Red indicates items that need immediate attention.
Yellow indicates items that should be addressed in the near future.
Green indicates no items to address.
Hearing Brake Grinding Noise?
Stopping power is crucial to a safe and successful driving experience which is why you need genuine OEM parts to make sure your vehicle is staying safe on the roads. When you need brake service, visit John Holt Auto Group, Inc. and our GM Certified Service experts will recommend quality new brakes.
Learn More
Battery Trouble?
Your vehicle's battery provides energy to start the engine, plus it supplies power to accessories when the engine is not running. The cold of winter and the heat of summer can affect your auto battery. See us for your vehicle's battery needs with proper Chevrolet service near OKC.
Learn More
Contact Service
Service: (405) 224-2132
Parts: (405) 224-2132
2501 Us Highway 81, Chickasha, OK 73018