Vehicles In Production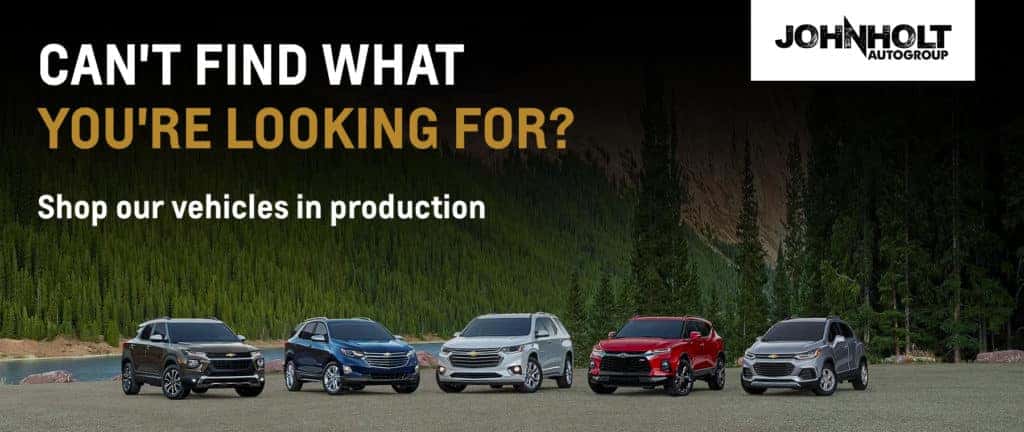 Please contact us with which vehicle you're interested in by filling out the form at the bottom of the page!
If you don't see what you're looking for below CLICK HERE to head over to our Custom Order page. Tell us what you're looking for and let us help you find it!
*All vehicles highlighted in red below have a deposit placed on them.
2023 Corvette

2023 Silverado 1500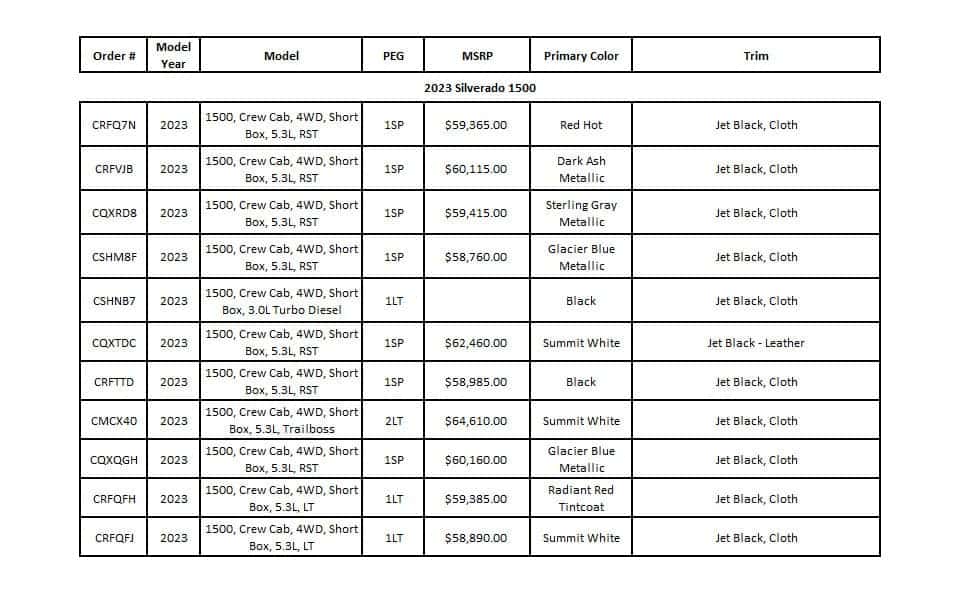 2024 Silverado HD

2023 Colorado

2023 Camaro

2024 Trax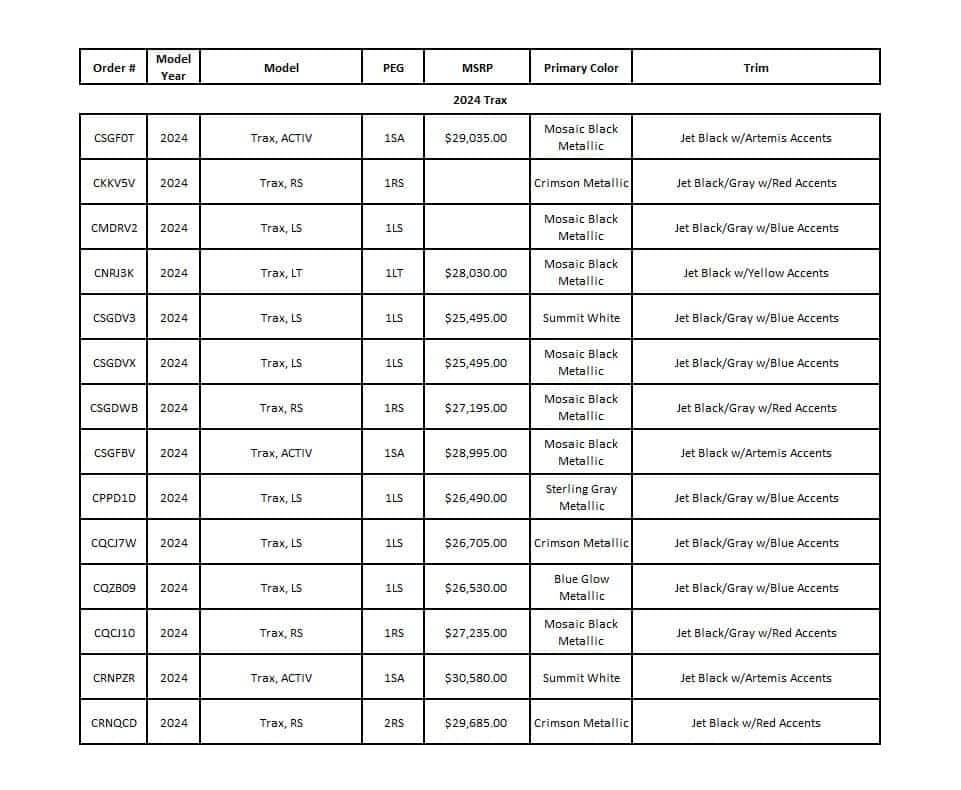 2023 Trailblazer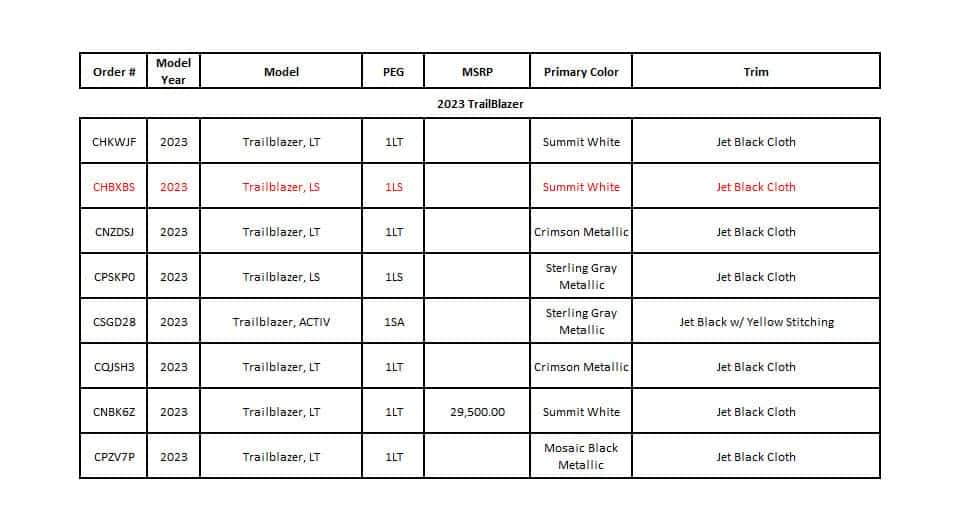 2023 Blazer

2023 Bolt EUV

2023 Equinox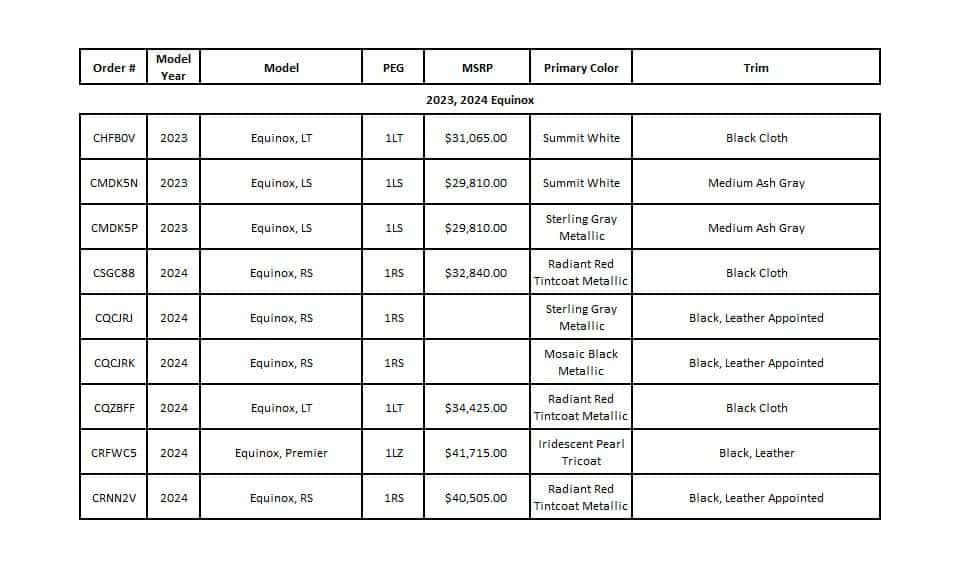 2023 Traverse

Please include the order # of the vehicle you are interested in.

New Chevy in Production
Lots of our customers want to get their hands on the latest unreleased vehicles as soon as possible. That's why we have a vehicle reservation tool where you can reserve the vehicle of your choice or alert on their release date. It's a tool that's become very popular with our customers who custom-built their vehicles or need a vehicle finder. It allows you to order a vehicle online, or be notified once a Chevy in production has changed.
By filling out the information below, you can order your vehicle online and have it ready for you when production on it ends. This tool is perfect for people who like to upgrade their vehicles frequently or need to find the right new Chevy in Chickasha. Contact us to learn more about this vehicle finder and reserve tool at our Amber-area dealership. Also, apply for financing with our finance center to see what deals you can get on these new vehicles today!
How To Reserve Your Vehicle
Above, you have both a chart showing you the vehicles in production, soon to be released at our dealership near Tabler, and below that, you have the form where you can reserve your vehicle. By filling out the form you have the option of leaving a message about the vehicle you're interested in or trying to find. So if you custom-built a vehicle and want to know the progress or an estimated release date, you would fill out the vehicle finder form, and we'll get back to you as soon as possible!
Why Reserve Your Vehicle?
Many people don't see the need to reserve their vehicle months in advance, but many of our customers in the Norge want to get their hands on the new Chevy in Chickasha before anyone else. It's also a good way to skip the line when the vehicle is finally released by knowing which Chevy is in production, and now everyone is trying to get their hands on it. Contact us today to learn more about ordering a vehicle online from John Holt Auto Group, Inc..
Find the Chevy In Production for You at John Holt Auto Group, Inc.
Don't wait another minute longer. If you're looking for a vehicle that your custom-built or are trying to order one, use this helpful tool. Once the form is filled out our team of specialists will be in contact with you during the entire process!